• Program Agenda
• Session Descriptions
• Summary of Conference & Keynote Presentations
• VIDEO: Dr. Oz Speaks to NEBGH on Transcendental Meditation™
• Photo Gallery
• Sponsors
• Conference Brochure
On Wednesday, April 25th, 2012, Northeast Business Group on Health held its 1st Annual Health & Wellness Benefits Conference, 30 Years of Innovation: What's Next for Employers? The conference, which attracted over 250 participants from various industry segments, marked the employer coalition's thirtieth anniversary. The conference explored critical and timely issues impacting healthcare purchasers and consumers, including:
• Healthcare reform
• Alternative delivery models
• Pharmacy benefits management
• Global wellness
• Employee engagement
• Employee health management
• Decision support
• Stress management in the workplace
• …and more!
Keynote presentations included:
(click on titles to read description)
Andrew J. Lang, Senior Vice President & Chief Information Officer, Information Technology, WellPoint
David A. Kerr, Director, Corporate Strategy, IBM Corporation
Norman E. Rosenthal, MD, Author of "Transcendence: Healing and Transformation through Transcendental Meditation"
Bob Roth, Executive Director, David Lynch Foundation National Director, Center for Leadership Performance, Transcendental Meditation Center
Peter R. Orszag, Vice Chairman, Institutional Clients Group, Citigroup, Inc. Former Member of President Obama's Cabinet
SESSION DESCRIPTIONS
Innovations in Health Reform: The Spectrum of Opportunity between Pay and Play
The federal mandate for companies to offer health benefits to full-time employees or pay a penalty takes effect on January 1, 2014. While some will "Play" and others will "Pay", many will choose to do something in between. Hear the approaches different employers may take and discuss the advantages and disadvantages for the company and employees. Where is your company on the spectrum of opportunity?
Innovations in Employee Health Management
Learn about next generation onsite health strategy and how leading companies using personal health records to promote employee engagement.
Innovations in Employee Engagement
New engagement tools harness the power of game theory, personalized consumer experience, social networking tools and rewards to engage employees and encourage healthy behaviors. Learn how these tools boost engagement rates that exceed industry norms and help to control costs through increased employee accountability.
Innovations in Decision Support
The continuum of medical decision support services is wide and varied but their promise lie in their ability to help employees make more informed medical decisions in partnership with their own physician. Learn what services make the most sense for your company.
Innovations in Stress Management Programs & Building Workforce Resiliency
High Chronic stress takes a major toll on employee's physical and mental health leading to high medical costs and lower performance and productivity. Learn about clinically-proven mind-body approaches are effective at lowering stress-related costs and improve health outcomes. You'll also learn to tailor best-in-class programs for your company to keep employees mentally fit.
Innovations in Healthcare Delivery: Employer Considerations for Alternative Delivery Models
With the advent of the Patient Protection and Affordable Care Act (PPACA), employers are re-assessing the value of their healthcare benefit offerings. Changes in the healthcare industry will help reduce costly waste and inefficiencies across the entire healthcare ecosystem — including concepts such as Accountable Care Organizations, Patient Centered Medical Homes, Meaningful Use and Public and Private Exchanges. Learn the role employers can play to drive change with providers and payers today.
Innovations in Pharmacy Benefit Management: 2012 and Beyond
Learn the about how the changing pharmacy benefits landscape, upcoming trends, including specialty and biosimilar drugs will impact your company and how you should approach your benefit strategy.
Innovations in Wellness: Driving Improved Health…Globally
Improving the health and performance of your global workforce is critical — and achievable. Let's talk about why — and how. From the latest research, to the proven benefits other employers have experienced come hear what making global health and performance a priority can do for your employees and your business.
SUMMARY OF CONFERENCE AND KEYNOTE PRESENTATIONS
Laurel Pickering, NEBGH's President & CEO, kicked off the event with a welcome as well as a round of trivia questions related to the history of Northeast Business Group on Health.
Mary Bradley, Director of Health Planning at Pitney Bowes, and chairman of NEBGH's Board of Directors, followed Ms. Pickering with brief remarks on employers' role in advancing the dynamism of the healthcare market. She noted that the passage of the Affordable Care Act and the retirement of the Baby Boomer generation shifted the healthcare market into a state of transition and flux. Ms. Bradley asserted that employers, however, remain committed to the same fundamental goal: to harness innovation to produce value for their businesses and keep their employees healthy and happy.
Jeremy Nobel, MD, MPH, Medical Director for NEBGH and head of the coalition's Solutions and Innovations Center, followed Ms. Bradley with a brief discussion on the process of healthcare innovation, which he described as a marathon rather than a sprint. His primary contention was that the healthcare sector doesn't need new ideas; rather, it needs innovation on how to be innovative. Redefining the innovative process requires the cooperation of different stakeholders who generate new ideas about payment models, delivery mechanisms, quality improvement efforts, and benefit design.
A.J. Lang, Senior Vice President and Chief Information Officer from WellPoint, and David Carr, Director of Corporate Strategy at IBM, delivered the first keynote presentation entitled, "Will Supercomputer Dr. Watson Improve Patient Care?" Mr. Lang discussed the rapidly advancing healthcare field. Medical evidence is doubling every five years, challenging providers to stay current in their fields, he noted. Meanwhile, technological advances give providers the opportunity to coordinate patient care through longitudinal patient records. In order to address this influx of information, Mr. Carr proposed that supercomputers (such as Watson, the computer that appeared on the syndicated television show Jeopardy) assist doctors. These supercomputers will be able to synthesize large quantities of information, including both medical evidence and patient records. Based on this knowledge, the computer can propose a course of treatment for a patient's health condition, ensuring that patients receive the appropriate treatment based on all available evidence.
Preceded by a number of breakout sessions on such topics as the future of employer-sponsored health insurance in a post-health reform landscape and innovations in employee engagement, a luncheon keynote on Transcendental Meditation® was given. Transcendental Meditation is a technique, championed by celebrities such as Dr. Mehmet Oz and Oprah Winfrey, that aims to bring its users inner peace, health and wellbeing, and stress relief. Bob Roth, Executive Director of the David Lynch Foundation introduced a video narrative on Transcendental Meditation by Dr. Mehmet Oz, TV personality and host of the Dr. Oz show. Dr. Oz explained the benefits — both personally and professionally — that he and his staff have realized as a result of adopting the Transcendental Meditation technique. Dr. Norman E. Rosenthal, the National Director of the Center for Leadership Performance at the Transcendental Meditation Center, and one of the movement's key figures and leaders, then explained how the technique adds value to employers and their workplaces. Supported by scientific research, the benefits include improved intra-office working relationships, enhanced leadership performance, reduced stress, elevated job performance, and increased satisfaction, among other findings.
Following a round of breakout sessions, Peter R. Orszag, Vice Chairman of the Institutional Clients Group at Citigroup and former director of both the Congressional Budget Office (CBO) and the White House Office of Management and Budget (OMB), delivered the closing keynote presentation. His remarks focused on the recent trend of decelerating healthcare costs and the effects of political polarization on the nation's healthcare system. Mr. Orszag noted that between 2010 and 2012, healthcare costs showed signs of deceleration, when compared to prior years' trends. Many have attributed this slow down to decreased healthcare utilization as a result of the economic recession. An alternative theory explaining this welcome trend, Mr. Orszag noted, are structural modifications in how healthcare is delivered and paid for. That Medicare costs have decelerated at a rate faster than in the commercial space is a clear indicator. Explaining this are a variety of factors, including providers bearing greater insurance risk and shifting how they make decisions through benchmarking, health IT, and clinical decision software. Mr. Orszag also remarked that  employers are key actors in the healthcare system and can and should unite to spur change in the healthcare system. He concluded his remarks with a fascinating dissection of the forces behind the nation's political polarization, which is greater than ever. Much of this is attributed, according to research, to Americans' tendency to gravitate toward like-minded groups, which yields more extreme political and policy stances.
Concluding the meeting, Ms. Pickering thanked guests and presented the raffle winners with prizes from the conference sponsors.
We again thank our supporters and sponsors for their commitment to promoting NEBGH as a catalyst for change in the local and regional healthcare market.  We hope to see you at other NEBGH events as well as at next year's Annual Health and Wellness Benefits Conference.
VIDEO: DR. OZ SPEAKS TO NEBGH ON TRANSCENDENTAL MEDITATION™
PHOTO GALLERY
Click on gallery to view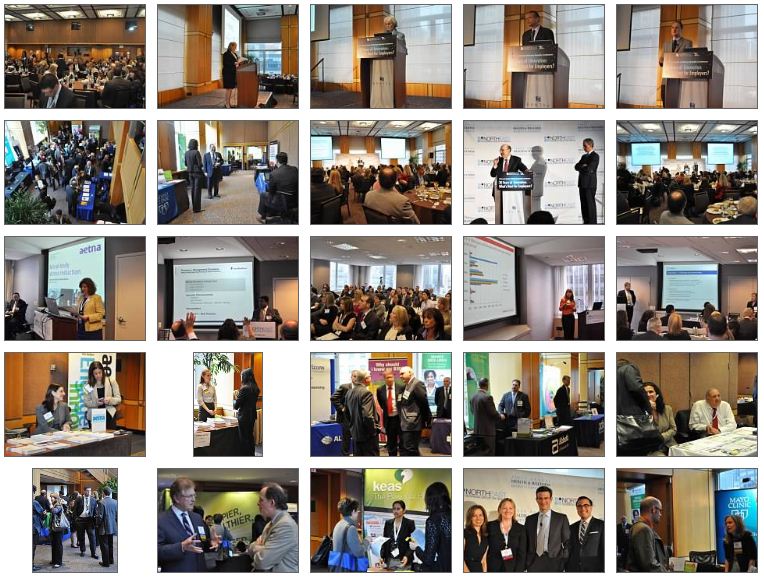 SPONSORS