The New York State Advanced Primary Care Initiative
NEBGH as Key Partner in NYS Efforts to Transform Primary Care
NEBGH, together with the NYS Department of Health, is leading efforts to transform primary care in the New York City metro region and the Capital District/Hudson Valley!
We're working with health plans, physician practices, and other key stakeholders to design, test and evaluate a new model of advanced primary care now known as the New York State Patient-Centered Medical Home (NYS PCMH). These efforts got underway in late 2014, when NYS received a $99.9 million State Innovation Model (SIM) multi-year grant from the federal CMS Innovation Center.
The idea is that advanced primary care is the foundation of better health for all New Yorkers and the critical element for a value-based care and payment strategy that transforms the delivery system. Primary care practices are eligible for dollars and assistance to transform their practices via technology, care coordinators, integrated behavioral health, and other enhancements, and will then need to demonstrate improvements in quality and patient experience to qualify for reimbursement under the new model.
The goal is that 80% of NYS residents will receive primary care under a value-based payment model within four years.
You can find additional information here:
Announcing New York State PCMH Program
The New York State Department of Health worked with NCQA to develop an exclusive transformation program for New York state practices. The new NYS Patient-Centered Medical Home (NYS PCMH) program supports the state's initiative to advance primary care and promote the Triple Aim.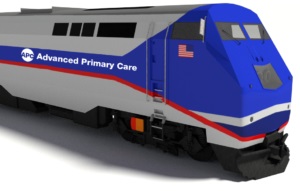 Multi-Payer Primary Care Practice Model
The New York State advanced primary care initiative, sponsored by the New York State
Department of Health, seeks to support practices' efforts to achieve NYS Patient
Centered Medical Home (NYS PCMH) designation with technical assistance and
coaching support for practices. In support of this initiative, four Capital Region-Hudson
Valley health plans, CDPHP, Empire BC*, MVP Health Care and The Empire
Plan are initiating a voluntary, multi-payer collaboration. This collaboration targets
small and medium size primary care practices with a payment model that facilitates
both transformation to advanced primary care and ongoing efforts to improve patient
outcomes.